AC Business Media announces
new ownership for National Pavement Expo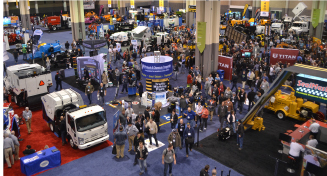 On Tuesday,
AC Business Media
announced that Emerald Expositions will be the new owner of
National Pavement Expo
, an annual trade show and conference for those in the paving and pavement maintenance industry.
Emerald Expositions
, a leading operator of large B2B trade shows, produces more than 80 trade shows and conference events each year.
National Pavement Expo (NPE) 2017 will continue to be served by AC Business Media (ACBM) with Amy Schwandt as the Show Manager and Allan Heydorn as the Conference Manager. Emerald Expositions and ACBM have entered a long-term strategic relationship so they can continue to provide exhibitors and attendees the best experience possible.
Pavement Maintenance &amp Reconstruction
magazine will continue to serve as the official publication for NPE in the future while remaining an AC Business Media brand. Allan Heydorn and Amy Schwandt will work closely with the Emerald team on the production of NPE following the 2017 show while remaining employees of AC Business Media. The Emerald Expo and NPE team will be on site in Nashville and will be meeting with each of you.
"It has been exciting and gratifying to see the growth that National Pavement Expo has achieved over the past several years," commented show manager, Amy Schwandt. "The team has worked diligently to add exciting innovations and new services every year and to keep the educational conference fresh. We will continue to support our clients and attendees through the products and services offered by AC Business Media brands."
Carl Wistreich and Anil Narang, co-owners of National Pavement Expo, stated that "National Pavement Expo has a successful track record in its long history. We are glad that it will be in the capable hands of one of the top trade show operators in the world. We believe Emerald Expositions will provide many benefits to our loyal attendees and exhibitors."
Please contact Amy Schwandt, Kris Flitcroft or Carl Wistreich with questions.